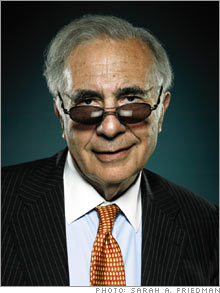 I've never been that impressed with Carl Icahn. Well, at least not as impressed as one normally would be by a man worth many billions. I find his greenmail and activist shareholder ploys mere bullying. Pressuring companies into asset sales and/or buybacks is not as romantic and going in, rolling up your sleeves, and reversing a decline. Then came the
coup de grace
; I learned that he and his wife sing showtunes together. Unforgiveable.
His full frontal assault on Yahoo! is starting to change my opinion. Yahoo! has just the sort of self-satisfied, entrenched management that his Icahn avatar Gordon Gekko rails against in
Wall Street
. Yahoo!(
YHOO
) was trading at around $19/share before Microsoft(
MSFT
) made their offer(their finally offer of $33/share represented a 72% premium). Was Yahoo! negotiating in good faith?
Jim Cramer thinks not
. Icahn is very smart and tenacious. He has brought along heavyweights like Mark Cuban and John Paulson, fresh from his huge subprime score. He is hoping to throw out the board, get his slate of ten directors elected, and then lure back Microsoft.
This is like having the high school quarterback asking a not so popular girl to prom, her giving him the cold shoulder, then having her mom swoop in and try to make the date happen anyway.
One of the sillier aspects of the whole thing has been the absurdly polite/passive-aggressive letters that have been exchanged. Why in 2008 do investors issue these things? This is not business, not a Jane Austen novel. Here is the text of
Ballmer's we're no longer interested in Yahoo! letter that he sent to Jerry Yang
. I can almost hear Roxette's
"It Must've Been Love"
playing in the background. His outlining of just how silly it would be for Yahoo! to seek "strategic alternatives" with Google makes sense.
How about
Icahn's letter to the Yahoo! Chairman Roy Bostock
? I love that he says a number of shareholders have asked him to lead a proxy fight. Ah, Carl Icahn, the reluctant warrior. He's like Aragorn, he never wanted to be king, but fate had other plans.
This letter reminds of that early in
The Godfather: Part II
, when Connie comes to Michael for money when she wants to marry Merle Johnson. After basically calling her an unfit mother and a whore, he offers her a place in the compound and whatever she wants. Then he chilling says, "Connie, if you don't listen to me, and marry this man, you'll disappoint me."
Do you think Yahoo! will disappoint Icahn? They just might. Read the
Yahoo! response to his letter
.